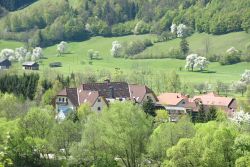 Nature Hotel Steinschalerhof
The cozy hotel Hotel in the Valley of the Pielach
Our family-run Nature Hotel Steinschalerhof lies right in the heart of the Pielach Valley, offering a romantic ambience and a tasty regional and seasonal cuisine.
One of our main objectives has been to meld together the cosiness the Valley of the Dirndl and the modern comforts our guests rightfully desire. All of our rooms are furnished with solid wood furniture, and they all are equipped with lots of taste and love with showers or tubs (30 rooms with whirlpool tubs in the bathroom), toilets, television sets with satellite channels and telephone sets. All of our rooms have free internet access (LAN or W-LAN).
Nature Hotel Steinschalerhof is built around our old central building, the Vierkanthof. This refurbished and modernized house is gracefully surrounded by the new buildings, the modern South Garden House, the Garden Houses, the Mostinium (an earth cellar for cider tasting and other events) and our many natural gardens. And just a short walk away you will find our House Königwiese with three star classified apartments, with beautiful nature at the doorsteps.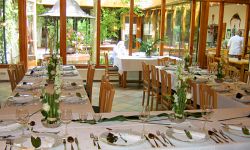 A hotel for holidays or for seminars?
We are both and much more! Through the functional arrangement of our generous spaces on offer, we are both able to guarantee you a cheerful and relaxing stay as a holiday guest, and also to ensure concentrated and undisturbed work for you as a seminar guest.
The seminar rooms are evenly distributed in our hotel. All of them have their own group and break rooms nearby, enabling undisturbed work. Above this, our gardens can be used as additional relaxation and working spaces in the midst of nature.
In the nostalgic garden of the Vierkanthof a recreation area with a swimming pool and a playground awaits our holiday guests.
Our restaurant area, consisting of seven dining rooms, is conveniently clustered around our central buffet region.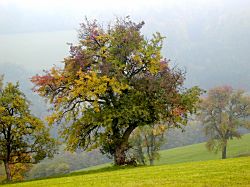 Ideal location in the Valley of the Dirndl
Our central location in the unique cultural landscape of the Mostviertel offers several opportunities for connecting with nature. A stay with us is a sojourn in nature, and our Steinschaler Gardens and the varied landscape in the region around us is ranging from the richly articulated cultural landscape of the Valley of the Dirndl to the northern Chalk Alps (Kalkalpen). Everything can be reached easily without car with the narrow gauge railway Mariazellerbahn, and Nature Hotel Steinschalerhof is an ideal base for walks, from romantic promenades to sophisticated guided hikes in the area, too.
Besides all this, Steinschalerhof is also conveniently situated to be an ideal location for excursions to the nature and cultural offers in the Mostviertel, to the Wachau region (ca. 40 km) and also to Austria´s capital, Vienna.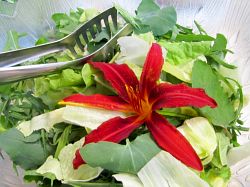 From being an insiders' tip to being the leading hotel in the Valley of the Dirndl
Two reasons responsible for our success in the last years may well be the nature that surround us, and the almost family-like atmosphere we try to provide for our guests. In our sophisticated regional cuisine we have included healthy wild herbs in our recipes, making the new Steinschaler country cuisine correspond to the criteria of healthy nutrition. At the same time, our offerings include dishes that you might never have tried, or ones that you have not tasted for a long time. The ingredients come as far as possible from our organically certified gardens, or at least from our region. This new way of a definitely tasty, down-to-earth cuisine of ours has won quite some awards. We have been for example awarded the "Grüne Haube" - the "Green Toque" for excellence in wholesome natural Austrian cuisine.
Besides the classical offerings of a hotel, we are glad to organize your events ranging from weddings over excursions to meetings or symposia. None of your events is too small and almost no meeting too big for us, and we are glad to provide you with many references.
We look upon each guest at Nature Hotel Steinschalerhof as a personal guest, to whom we are, in spite of the size of our premises and operations, still personally dedicated. The morning walks to the peak of the Eisenstein, or the cider tasting evenings are for Herr Weiss, the owner of Steinschalerhof, not felt as obligations but as real and pleasant opportunities for having some relaxed conversations with his guests.