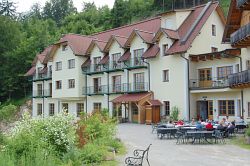 Nature Hotel Steinschaler Doerfl
The unique hotel at the mountain
Enjoy the ever more rare peace and feeling of nature.
Located on a mountainside between Frankenfels and Schwarzenbach, we have refurbished and expanded an old mountain farm, the "Waitzgraben", to an ample hotel village, retaining from nature and from the local character as much as possible. The undisturbed location surrounded by splendid countryside has become the defining element here. This nature park of ours at 730 m above sea level is crossed by a myriad of walking paths, and surrounded by generous 86 hactares of healthy forests and lush mountain meadows.
The revitalised houses of the former country yard are grouped harmoniously around the central "Village Square". And this ensemble is complemented on the level of the terraces by the the "Jagdhaus" (Hunting Cabin), the House "Talblick" (Valley View), and – towering above all – by the "Dorfhotel" (Village Hotel).
Next to the "Dorfplatz" (the Village Square) you will find the terrace, a meeting point at any time of the day, with an indeed lovely view to the east. This is where the reception and the restaurant areas are to be found, too.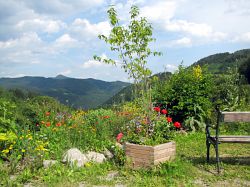 Your stay in an undisturbed location
Nobody will disturb you in Steinschaler Doerfl, and you will not disturb anybody either. Your next neighbors are approximately 1.000 meters away. Through the generous space offer we are able to offer you exactly what you are looking for in terms of size or number of rooms. And groups of nature lovers, hikers getting up early, and guests in the seminar or incentive groups will most probably only meet each other only at the end of the day on our lovely terrace.
Our offering includes over 100 rooms in 15 buildings, with almost all of the rooms having a view over the valley. The rooms are furnished with solid wood furniture and a lots of love to detail, have their own showers or bathrooms (partially with whirlpool tubs), toilets, TV sets with satellite channels, telephone sets and free internet access (LAN or W-LAN).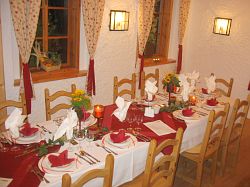 The cuisine of Steinschaler Doerfl
Enjoy the by now well-known Steinschaler country cuisine, awarded with the "Grüne Haube" ("Green Toque" for wholesome and natural cuisine in Austria)! Eat à la carte or choose from among the dishes in the varied and light buffet.
You will have the restaurant areas "Kellerstüberl" (Cellar Parlour), "Bergstüberl" (Mountain Parlour), "Rotes Zimmer" (the Red Room) and the spacious Terrace at your disposal. We hope you will find the regional Steinschaler Cuisine to your taste in all of them.
The hotel village Steinschaler Doerfl is an ideal starting place for hikes in the area or for having a rich lunch or a cozy dinner. If the weather is suitable, you will have a wonderful view on the cultural landscape of the upper Pielach Valley from the terrace. We are happy to host you both as an excursion and also just as a restaurant guest.
Please note that for internal organizational reasons, our restaurant is not open continuously, so let us know when you need our services under the phone number 0043 2722 2281.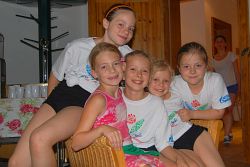 Seminars and events in the Steinschaler Doerfl
There is hardly a place more predestined for a successful seminar or a unique event: a magnificent and undisturbed location, embedded in a cultural landscape so rich in traditions, and all of this combined with our generous room offer and our tasty regional cuisine!
Seminar rooms for up to 350 persons, restaurant seating in our dining rooms of up to 500 persons, and a rustic "Dorfwirtshaus" (Village Inn) ready for your private parties. Should you wish so, we can organize the food to be served in a very special way, embedded in a traditional Mostviertel or Dirndl Fair to be held on the Village Square. But we are equally glad to organize a simple barbecue evening just for your group. For a change: have the dessert served outdoors, fresh from a big pan - our "Kaiserschmarrn" (cut-up and sugared pancake with raisins) has repeatedly been a huge success.