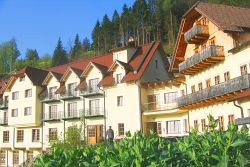 Seminar Hotel Steinschaler Doerfl
A village just for you!
You would like to be only among yourselves? That is what the Steinschaler Doerfl is for! A hotel village, based on an old mountain farm, refurbished with love and care for the environment, in the midst of more than 210 acres of healthy mixed forests and lush mountain meadows, embedded into a picturesque side valley of the Pielach Valley, at 730 meters above sea level.
And all of this combined with the short journey necessary to reach us, since we are located on the eastern side of the Mostviertel, thus in the center of Lower Austria, less than 100 kms away from the center of Vienna or 120 kms from Linz, the capital of Upper Austria.
We are hosts with a passion for genuine hospitality. The success of your seminar, meeting, convention, team building event, is also an important matter and challenge for us.
Plan your private "Incentives" at this wonderful environment, be it a feast or your wedding.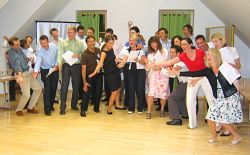 Incentives
Motivate your colleagues or your business partners with a very special incentive: give more than you could give with just a premium - organize a community event as a present!
An incentive is a nice way to evoke emotions, help people relax, make colleagues happy and increase team spirit and company loyalty among your own colleagues, and it can also communicate the innovative powers of your company to your business partners. Especially if they are greeted by a place name sign with your name or your logo!
We have prepared a series of modules for you, with the help of which you can make your event a truly unforgettable experience.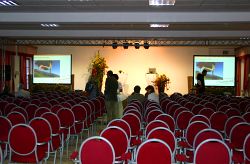 Presentations, conferences and events
Nature Hotel Steinschaler Doerfl is an exquisite destination for a presentation of your company, your product or your services. But the Steinschaler Doerfl is also a seminar and conference hotel, a location for incentives, and so on. In short: an extraordinary hotel complex high up in the mountains, with atmospheres ranging from rustic to elegant - and still very easy to reach and near to you!
What we are offering to you as an organizer, above our premises and the infrastructure you might need, are our experience of many years and our well trained staff.
It does not matter how you want your event to be organized, we will always be able to offer you the matching location for it, starting with the rustic Village Square, over the elegant Lounge in the Village Hotel, to the cozy terrace of House "Talblick". The same applies for the rooms and restaurants. And should you want to have undisturbed conversations, we have many discreet little corners with comfortable seating for you. Our offer is rounded out by the generously designed wellness area.
The optimal conference place at Steinschaler Doerfl is the "Talblick" Hall (Valley View Hall). 300 persons including a stage fit in into this room comfortably, and the attached break zone and many further rooms located close by supplement the environment for your event.
We have proved with events like the Mostviertel Feast, or already many times with the hosting of the Sustainability Conferences and Open World camps that we are able to skillfully stage large events, too. One of the highlights has always been the Steinschaler Cuisine´s regional and biologically perfect offers tailored to your wishes and your taste, our long established supporting programs ... and that special Steinschaler feeling...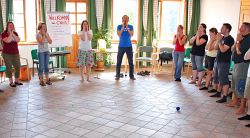 Seminars and conferences
Hardly any other seminar hotel offers so much nature, complete with modern seminar technology in ample, bright seminar rooms. Altogether there are 1.400 m2 of space in the seminar rooms at your disposal.
In addition, we can provide you with 100 rooms of a high quality according to your taste. Ranging from rustic rooms in one of the houses at the Village Square to the Designer Rooms in the House Talblick or in the Village Hotel (Dorfhotel), the choice is yours.
Highlights for seminars and incentives are thematic lunches or dinners e.g. in the Village Inn "Alte Säge" ("Old Saw"). This option comes at a moderate premium depending on your choices of dishes.
Hosting seminars is our core competency. The main reasons why you should take into consideration our seminar hotel, we have summarized under the menu item "Seminars in the Steinschalerhof". They are valid analogously also for our Steinschaler Doerfl premises.