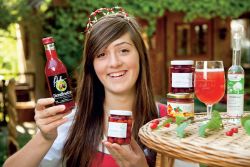 Steinschaler Shop
Regional Products
As a company focused on sustainability, Steinschaler Nature Hotels offer their guests high quality regional products. In the Steinschaler Shop you will easily find souvenirs for those at home. The Steinschaler shop is located near the reception area in both Steinschaler Nature Hotels.
Ask for fresh products like sheep cheese, deer sausage or fresh blood sausage. These we have in cold storage.
Cornelian cherry products

Cornelian cherry chutney
Cornelian cherry crème honey
Cornelian cherry liqueur
Cornelian cherry jam
Cornelian cherry "olives"
Cornelian cherry paté
Cornelian cherries in rum
Cornelian cherry syrup
Cornelian cherry schnapps (brandy)
Cornelian cherry chocolate




Steinschaler gift set
Cornelian cherry gift basket
Cornelian cherry stones pillow
Cornelian cherry jewelry

From the Steinschaler Kitchen

Steinschaler jams (of our own production)
Steinschaler syrups: Elderberry, Lemon balm, Peppermint, Apple mint
Dandelion honey
Spruce tops honey
Rose gel




From the Steinschaler Gardens

Organic seeds (of our own production)
Cornelian cherry shrubs in pots




From farmers in our region

Dried fruits from the Dirndl Valley
Brandies and liqueurs
Fresh sheep cheese (available seasonally)




Specialties

Steinschaler organic cereal bars
Farmhouse bacon from the Pielach Valley
Pure variety perries from top-quality must producers
Balsamic vinegar made from pears
Prima Pira – a first class pear brandy
Almost all the above listed articles are seasonal and therefore not always available. We are glad to inform you if out of stock articles are available once again. Feel free to inform us about your wishes!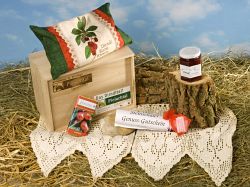 Cornelian cherry gift package
This package contains a few introductory cornelian cherry products and a voucher for a "Wild herbs salad with cornelian cherries" to be consumed in the Steinschaler Nature Hotels.
Cornelian cherry chocolate and chutney are first culinary greetings. The hand embroidered Cornelian cherry stone pillow is good for laying on – warm it up beforehand, and as the stones store the heat well, the pillow brings relaxation in cases of pain and inflammation of the body parts. The voucher for a Wild herbs salad with cornelian cherries is meant as an invitation to explore the Pielach Valley, qualified "Austrian Region of Delight" and Nature Hotel Steinschalerhof in Rabenstein.
Our Steinschaler gift package has been the winner in category wellness in 2009 at the competition of Austrian Regions of Delight.