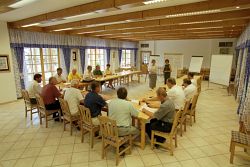 Your seminar in Seminar Hotel Steinschalerhof
Successful seminars – our core competence!
Abundant fresh air, sun and clear water – our fertile Steinschaler climate lets not only our herbs, fruits and flowers in our gardens frolic, but helps thoughts and ideas thrive and teams grow together easily!
Our goal is to provide a personal and family-like environment for our guests. In our nature-centered hotel you therefore have the opportunity to have a look at our gentle approach to nature and our landscapes, and to experience the Valley first hand. The Steinschaler Gardens are wonderful relaxing places, enabling you to escape your everyday life a bit after a possibly tiring seminar day.
And the Steinschaler Cuisine with its wild herb specialties also contributes to natural delights.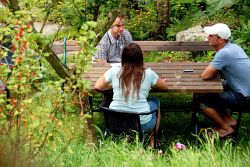 Your advantages as an organizer of seminars
The team of Seminar Hotel Steinschalerhof is a well-known specialist for seminars and conferences. Our offers are tailored to this segment and are continually updated according to the needs of our clients.
Our generous space offer, with room sizes ranging from 25 to 297 m², complete with many group rooms and niches, is frequently appreciated by our guests. Our special seminar rooms like the seminar room "Teichbrücke" (Bridge on the Pond) in the midst of greenery, or the outdoor seminar room "Pfluaghittn" (Plough Hut), round off our offer.
We recognize however, that in order to have successful seminars, you will need more than just nice rooms and great food. Alongside our consulting services and the competent coaching of events, our complete offering therefore also comprises a big pool of exciting and funny program elements that, together with all the small details, will help you to achieve real success with your seminar.
Our offerings for your seminars in the Seminar Hotel Steinschalerhof
A pleasurable ambience – promotes a positive atmosphere and successful seminars
Our "Grüne Haube" awarded cuisine ("Green Toque" is the Austrian award for wholesome natural cuisine): light and quick buffet dishes
Various program elements to supplement your own programs, facilitating the planning of your seminars
We are happy to help you actively at the planning phase beforehand
Easy access: you can reach us easily by train
Seminars with the eco-label "Green Seminars" (Eco Label 62) without extra costs for you – ask us!
We are a family business. This means we are quite flexible!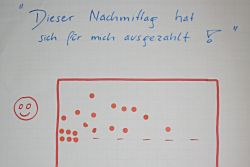 Your advantages as a seminar participant
We are hosts with a passion for genuine hospitality. We want each of our guests to feel comfortable and want them to return, also maybe as a private guest.
For your stay at the Steinschalerhof we are glad to offer you:
many, and above all, big seminar rooms
bright seminar rooms with a lot of daylight
seminars surrounded by green = a conference in nature
short meal times, especially at lunch
each seminar room having its own "private" break area
through consciously refraining from central break zones seminars with totally different needs can be held without disturbing each other in any way
Thanks to our generous space offer, neither our vacation guests, nor our seminar guests will feel disturbed by each other.