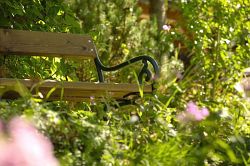 Nature at your doorstep The Steinschaler Organic Gardens
One trademark of Steinschaler Nature Hotels are the extensive and diverse Steinschaler Gardens. The Natue Gardens are – as it should be only natural in case of a hotel committed to sustainability – multifunctional, and so intimately united with the ideology and the everyday operation of our hotels that they have become indispensible. Here we produce a lot of what is needed for our daily operations. Vegetables, wild herbs, flowers for decoration, fruits and spices flourish in our own production gardens. But also in the stone walls, our front gardens and in the so called "green buffer strips" you will find a lot of aromatic, nutritious or simply just beautiful plants. Maintaining a rich biodiversity is an important aspect for us.
The Steinschaler Gardens are no formal gardens and are certainly no architecturally arranged green areas. Like our dynamic hotels, they look every time a bit different, changing their looks and form with the seasons, and becoming from year to year more rich in species and more diverse structurally.
Including the ponds, you will find 3.2 hectares of gardens around Nature Hotel Steinschalerhof, and approximately 1.6 hectares around the Steinschaler Doerfl.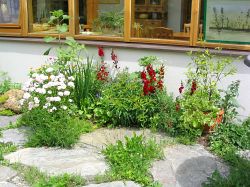 Nature right at our front door
Almost each of us likes hiking or taking walks through woods and meadows for relaxation. We love to enjoy the smell of plants, listen to the song of the birds or to the rush of the brook. In the same manner, many of us love to be outdoors in our own gardens (provided we have some), or to be simply not far from our houses.
This is the place we have to bring in more nature into, or at least let nature survive and be. Plants at our front door are called "village plants" in Austria. They have set up residence in the proximity of humans without being put in or sown consciously.
Many of these plants are threatened today with extinction, as we humans do not any more grant them the spaces they used to live in. Habitats possible for their survival would be along the sides of roads, paving cracks, the bases of walls, dry stone walls, the feet of fences, unsealed parking places and many more.
Good examples for letting these plants live are our dry stone walls, some of them looking indeed quite monumental. But they should be in all cases preferred to concrete walls not only because of ecologic but also because of economic reasons. Crevices and cracks in such walls are easily populated by many plants and animals, and you will see bleak walls begin to come alive and generate much of plant beauty.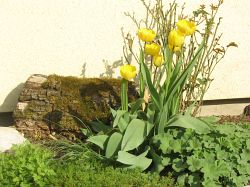 Also, our parking places are not sealed. This way, rain water can seep through the surface into ground water and the earth beneath can breath - as it should. This way, much life can emerge even in and on surfaces that are daily driven upon, if we only allowed it! Wonderful wild plants are happy to thrive especially at the borders and the surfaces with little traffic, and thus enrich our parking places with scents and touches of color.
Last but not least, there is no need for concrete at the feet of walls. Another possibility would be to have decorative village plants in front of the walls. They loosen up straight lines and bring additional color against the building. And "cool and straight" fences have a much more refreshing effect if we let climbing plants grow onto them.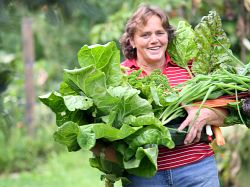 Production gardens
Nature Hotel Steinschalerhof produces all its kitchen and wild herbs, and a great part of the vegetables and lettuce it needs in its own Steinschaler Gardens. Production takes place in almost all garden areas and also in the fruit orchard on the hillside in front of the House "Königswiese".
We have taken into consideration many ideas of permaculture – having created a quite soft transition between our ornamental gardens near the hotel and the production gardens.
If we consider both of our locations, Steinschalerhof and Steinschaler Doerfl, together, you will find here a broad palette of habitats, ranging from wet locations through medium soil quality onto extreme low-nutrient habitats. Because of these circumstances we are able to offer the "right" place for many garden and wild plants, and this makes it possible for us to have around 1000 species of plants in our Steinschaler Gardens.
To maintain a proper overview in this little paradise requires good specialists that can manage and in a natural way care for our plants consequently and well. Our head gardener Frieda is the main responsible for our gardens. She is almost always to be found somewhere in "her" gardens.
Our gardens are also show gardens for the permaculture idea and for nature-like cultivation of gardens, as we are completely doing without chemical sprays, mineral fertilizers, peat or heavy machines!