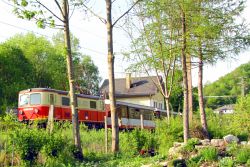 The Mariazellerbahn
The most beautiful scenic railway of the world
You do not necessarily need a car to get to the beautiful area of the upper Pielach Valley, as you already can choose to arrive with the unique Mariazellerbahn, a more than a hundred years old narrow gauge railway, with hourly services every day.
Especially in today´s hectic and all-too-fleeting age, a pleasant way to start your holiday is gaining a new relevance - no hectic, no traffic jams and no waiting times. By taking your time for a railway journey you do yourself a real favor. And this is also perfectly in line with the present-day concept of a restful vacation experience.
The Mariazellerbahn leads past Nature Hotel Steinschalerhof. Forget everything you know about the noise of railways and enjoy the special sound of the locomotive-hauled trains… just like our webmaster says: "When I hear the sound of the Mariazellerbahn in the morning, I know that the world is still all right."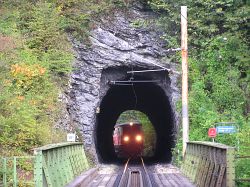 The railway line of the Mariazellerbahn
The Mariazellerbahn (MzB), already electrified in 1911, runs from St. Poelten through the Pielach Valley all the way to Mariazell and crosses 71 viaducts or bridges and passes also through 21 tunnels on her path.
You can simply get in in St. Poelten and just let the beautiful landscape of the Pielach Valley and of the mountain route pass in front of your eyes. After a few idyllic stations, the Railway reaches her destination, the famous traditional pilgrimage place Mariazell, already situated in Styria.
Travelling with the Mariazellerbahn is an impressive experience, not only for friends of railways but also for nature lovers, and it is surely an all-time favorite for children. The Railway is an ideal adverse weather program choice, as the trip in the always well-heated carriages is always a pleasure for the whole family.
On some Sundays in the summer special trains are operated, drawn by the historic steam locomotive "Mh.6".
At Home at the Mariazellerbahn
Marketing for the Mariazellerbahn
The working group "At Home at the Mariazellerbahn" has been founded by Chartered Engineer (Dipl.-Ing.) Mr. Johann Weiss, owner of Nature Hotel Steinschalerhof in 1997 with the explicit aim of fostering tourism in the region of the Mariazellerbahn.
Our current package "Narrow gauge jewel Mariazellerbahn" fits well into this line of marketing, and it is a great joy for us that we have already been awarded some prices for this offer of ours.
The Mariazellerbahn has been taken over by the state of Lower Austria, represented by NÖVOG, the Traffic Organization Society of Lower Austria, in 2010. This step has made the railway a Lower Austrian Provincial Railway, customer service has been since enhanced and there has been already significant investment in this unique facility. It's a great joy for us to have been able to play, with our own initiatives and events, a significant role in this recent development.