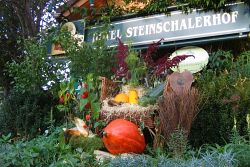 Welcome to Steinschaler Nature Hotels
Our slogan: Tradition and common-sense!
Let us start with common-sense. Some of our keywords here are: a gentle approach to nature, sustainability, healthy food. At the same time though, common sense does not necessarily exclude tradition. Our offers therefore include traditional elements - from snacks to feasts!
Steinschaler Nature Hotels unite coziness with local and regional food and drinks, nature right outside the door with modern conveniences in the rooms, resulting in the already quite widely appreciated Steinschaler hospitality.
We, Annemarie and Johann Weiss, and all of the Steinschaler Team, are hosts from passion. We would like to invite you cordially to get to know us and our houses!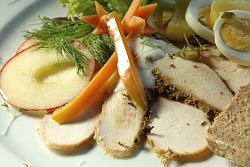 Nature Hotel Steinschalerhof
Let us start with the Steinschalerhof in Warth (Rabenstein) in the Dirndl Valley .
The Steinschalerhof in Warth (Rabenstein) is a well-known and popular conference hotel close to St. Poelten, the provincial capital of Lower Austria. Our hotel has achieved a good reputation through its sophisticated Steinschaler cuisine that utilizes wild herbs from our very own gardens.
The Steinschalerhof complex is arranged around an old country house, the Vierkanthof, and is surrounded by nature, the Steinschaler Gardens and Ponds. In the course of time, a southern wing, the South Garden House, has been added to this building, also with much nature around. Our offer is complemented by garden and log houses, a sizeable earth cellar called the Mostinum and the apartment house Königswiese.

More about the Steinschalerhof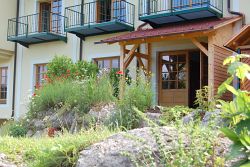 Nature Hotel Steinschaler Doerfl
Steinschaler Doerfl (Steinschaler Village) lies up in the mountains in Frankenfels, at 730 meters above sea level. These very peaceful of our premises have been built, and this in a very real sense, upon the foundations of an old farm, the farm building having been gently expanded with new structures. In doing so, we have remained true to our principles: leave as much nature as possible intact at our doorsteps, but create a functional architectural design for our guests at the same time.
The hotel village is an ideal place for seminars and events embedded in the primeval cultural landscape, but also well suitable for hikers or for hotel guests just seeking some tranquillity. Due to the Steinschaler Doerfl´s ideal situation, our framework "Rent a village" (or as we say "Rent a Doerfl") is enjoying increasing popularity.

More about the Steinschaler Doerfl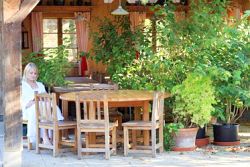 Holidays at the Steinschalerhof
The Pielach Valley lies – quite conveniently situated – to the south-west of St. Poelten, and has evolved under the trademark "Valley of the Dirndl" into a proper holiday region. Spending your vacation in the Valley of the Dirndl today means relaxation for body, mind and soul.
If you like walking or hiking, or maybe would like to swim in a clean river, you are in the right place. If you want to learn about regional and genuine products, you are in the right place, too. And should you be looking for a relaxing vacation for the entire family including your children, with lots of animals and many an adventure, with us, you are in the right place again. Only if you are into crowded beach parties, will you look for them here in vain.

Holidays at the Steinschalerhof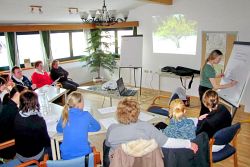 Seminars in the Steinschalerhof
Numerous rooms in all sizes, a high technical standard and tasty regional cuisine including creative vegetarian dishes constitute our basic offering to you. We recognize however that in order to have successful seminars, you will need more than just nice rooms and great food. Alongside our consulting services and the competent coaching of events, our complete offering therefore also comprises a big pool of exciting and funny program elements that, together with all the small details, will help you to achieve real success with your seminars.
Our generous space offer is always praised by our visitors. Room sizes between 25 and 297 square meters with numerous group rooms and private niches are ready to accommodate your needs. And our special seminar rooms surrounded by a lot of green, like the room "Teichbrücke" or the "Pfluaghittn", round off our services.
Our two locations, the Steinschalerhof and the Steinschaler Doerfl complement each other excellently. You as an organizer of seminars have the choice between an established hotel in the valley and an idyllic, calm hotel village in the mountains.

Seminars in the Steinschalerhof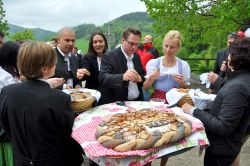 Seminars and Incentives in the Steinschaler Doerfl
A village in the mountains only for you! This spacious facility, far from the next village is the ideal location for a really unique seminar, an impressive presentation or a memorable incentive experience. The Doerfl is particularly suitable for events up until 500 persons, but we might have the ideal offer also for smaller or even tiny groups in one of our 15 houses.
In addition to the paths that you can explore around and the benches you can relax on in the gardens of Steinischaler Doerfl, we have also created a spacious wellness oasis for you.
We are convinced that the special Steinschaler climate we have created in our hotel village is as conducive as possible both to the flow of thoughts and ideas, and to the growing together of teams.

Seminars in the Steinschaler Doerfl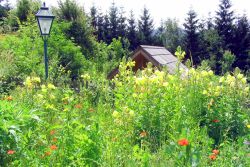 The Steinschaler Gardens
The Steinschaler Nature Gardens and Ponds are the fruits of our meanderings into permaculture and of our deliberate plan to have a lot of nature nearby. We consider this area to be so important that we have devoted a separate chapter to our gardens.
We are not offering you exotic flowers from greenhouses, but many almost forgotten, regional flowers, shrubs, trees and above all, wild herbs. Plants that in some places are regarded as infamous weeds are gently nourished in our garden beds and then also invited into our cuisine.
The Steinschaler gardens go almost seamlessly over from the ornamental gardens created for those seeking relaxation into the production gardens for our own purposes. Maybe it is no coincidence then that our guided tours of the gardens are booked more and more frequently, each and every year.

More about the Steinschaler Gardens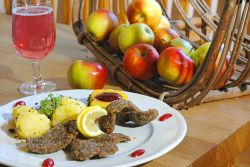 Steinschaler Cuisine
One of the secrets of our success is the Steinschaler cuisine. Our slogan here is the same as in general: "Tradition and common sense". We have developed our very own style, based on our many regional suppliers and our gardens. Something that would have seemed impossible only some years ago, has now become the rule: a cuisine around wild herbs in a four star hotel!
Nature Hotel Steinschalerhof´s kitchen has been using wild herbs intensively and systematically since 1998. What we call wild herbs are local wild plants and half-forgotten semi-traditional plants that have not yet been subjected to breeding for higher yields. They are therefore richer in various kinds of ingredients and vitamins. In all the years since then we have learned a lot about wild herbs, their health effects and their possible use in the kitchen, and we are also more than ready to share this knowledge if you wish in the form of cooking courses.
As an example, over the course of its season, the organic wild herbs salad with cornelian cherries is one of the most important salads in our restaurant. But you will encounter Steinschaler organic garden produce on your plate at every meal in our houses.
You can also obtain many of the products produced by us in the shop at our reception.

More about the Steinschaler Cuisine