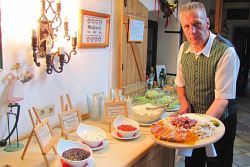 Buffet choices in the Steinschaler Country Cuisine
The famous Steinschaler Buffet
The Steinschaler Cuisine offers our guests (house guests and restaurant visitors) at all meals a buffet. Besides our buffet offer, you have of course always the option to eat a la carte, too.
In summer, if weather permits, we prepare the buffets for you in the Nostalgia Garden of the Steinschalerhof.
As a Nature Hotel we attach particular value to regional specialities at the buffet, combined with fresh organic produce from our Steinschaler gardens, and aim to refine this offer according to the season with interesting and tasty Steinschaler wild herbs.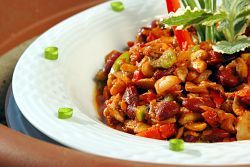 Your Steinschaler lunch buffet is composed of:
Homemade soup (served at the table in pots)
Steinschaler Salad Buffet
Two meat dishes (one light meat dish, one strong)
One fish dish
Vegetarian delicacies
Matching home-made and regional side dishes
Home-made dessert (served at the table)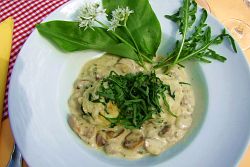 Your Steinschaler dinner buffet consists of:
A regional starter buffet
The Steinschaler Salad Buffet
One home-made soup
Two meat dishes (one light meat dish and one regional)
A fish dish
Vegetarian dishes
Matching home-made side dishes
and the dessert (served at the table)
plus at the end our cheese plate to savor.