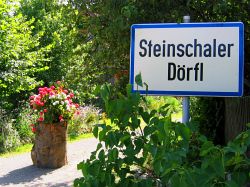 Rent a Doerfl
A unique place with the Doerfl concept
There are a lot of concepts and offerings in the area of "Rent a Village". In the Steinschaler Doerfl, a compact and peacefully situated location, it is possible to realize this concept in an inimitable manner for the following reasons:
You have one competent point of contact, and this guarantees a simple and efficient execution of the program elements
Both the Steinschaler Doerfl itself, and the hotel and restaurant are lead by the same management
The traditional fair concept for a special lunch or dinner in the village square is totally unique
There are many possibilities for your package of events, starting with our proven program elements to program elements perfectly tailored according your own ideas.
Nothing is impossible! As a family enterprise we can react to your wishes quickly and without any bureaucratic obstacles.
In the context of "Rent a Doerfl", the welcome on the village square is the visible sign for taking over the village for the participants.
After the unveiling of the place name sign and an optional Salt and Bread ceremony we are happy to serve you some regional drinks and regional and seasonal delicacies.
Your own name place sign
Instead of our normal place name sign at the entrance to the Village Square a place name sign tailored to your company can be mounted. You can freely selecte the labeling of the sign freely, e.g. have the sign contain your company´s name with your logo or the name of your event, etc.
But there is more: around your place name sign we can also organize a small event for you, from the unveiling of the place name sign through the cutting through of the opening barrier tape and the handing over of the key of the village to the Salt and Bread ceremony.
We are also glad to flag your Doerfl with flags supplied and can provide a matching musical framework totally according to your wishes.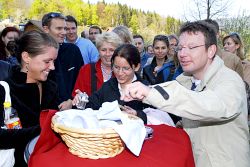 Salt and Bread ceremony
To offer bread and salt to someone at their arrival is an old sign of hospitality, as salt has been an expensive product earlier and has always been a of symbol of prosperity. Bread satisfied hunger, and presenting bread and salt to someone has meant wishing them a life devoid hunger and full of prosperity.
This custom is in the countryside an important element to let your participants "arrive" properly. Most people participate eagerly in the ceremony and everyone grasps this symbolic event easily. Bread and salt can be simply passed to the participants or a to a selected person for welcoming.
The salt and bread ceremony is the ideal start of your event in your "very own" Doerfl.