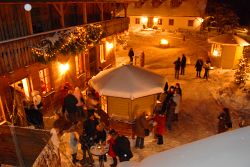 Dirndl Traditional Fair
Steinschaler Doerfl
The core of the traditional fair is comprised by the stalls, as it had been usual in earlier times in village fairs, for your enjoyment and entertainment. You will be strolling from stall to stall and trying the delicacies of our region. The entertainment stands, like disc or rose shooting stands are for relaxation and amusement - before, during and after the meals.
It is only natural that at a Dirndl Traditional Fair the female actors are clad in Dirndl dresses - at least where the Dirndls of the Steinschaler Doerfl are concerned! (A word play on the word Dirndl, meaning the Cornelian cherries, the traditional dresses but also girls or women in German.)
The Village Square is also the ideal setting for organizing at least one part of the Dirndl Traditional Fair also in the winter. At that time of the year, our Dirndl Hot Punch is always greatly appreciated. The warmer part of the event can then be held in the Village Pub.
The opening of the traditional village fair can be combined with the place name sign of your own or with the salt and bread ceremony. The further procedures of the day fair can be tailored to your wishes, from the more formal through the rustic to the typically rural, many program items being ideally held at the alpine Olympics stations.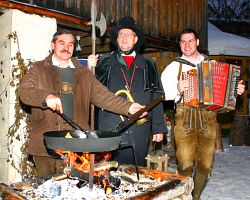 Village ambience and regional cuisine
The number of the stalls can be varied according to the number of participants or your wishes: appetizer stall, salad stall, pear cider stall, wine stall, etc. You can have a relevant stall for the main courses and for the desserts or we can serve them for you in one of our restaurant areas. Should you desire, we are of course glad to provide drinks service or waiters in addition.
We are glad to involve your guests at some stalls if you wish. Make your own "snowball cookies" or crullers at the dessert stall. Or decorate your gingerbread heart yourself under the professional guidance of "Herzerl" (Little Hearts) Mizzi, a world record holder in gingerbread decorating.
Another tip are the regional specialties cooked in the huge pan, like the original Dirndl Valley style "lumberjack style" meat pan or the fresh Kaiserschmarrn (a traditional pancake dish) served with homemade compote.
Stalls for entertainment and music, if you like it, contribute to a maximally relaxing traditional fair!